Journal BEARINGS: Borneo Mechanical Engineering and Science (P-ISSN: 2964-1462, E-ISSN: 2964-1500) is a forum for academics and practitioners to publish scientific papers, research results, literature, and analytical studies that focus on the fields of mechanical engineering and related applied science. BEARINGS is published regularly twice a year in June and December by the Mechanical Engineering Department, Faculty of Engineering, Universitas Borneo Tarakan with 5 articles in each issue. The focus and scope of this journal is research and studies on the latest issues related to the field of mechanical engineering and applied science for the development of border areas and tropical marine resources.
The following is an explanation related to the BEARINGS field:
Energy Conversion, Engineering Materials, Manufacturing, Mechanical Construction, Mathematical Engineering, Physical Engineering, Chemical Engineering, Biological Engineering.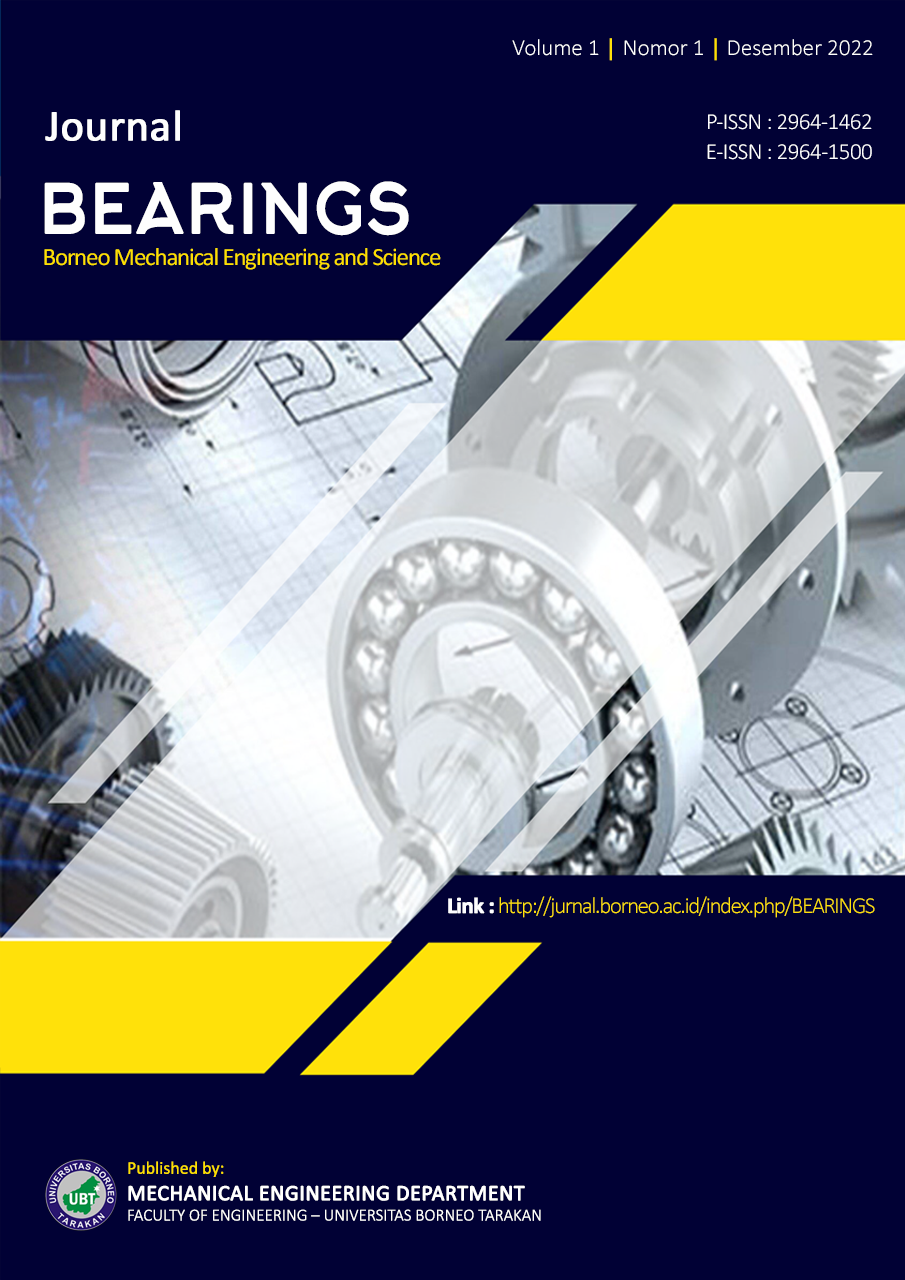 Announcements
Call for Paper Vol.2 No.1, June 2023

Dear Lecturer/ Researcher/ Teacher, etc.

We invite you to publish reasearch articles on Journal BEARINGS Volume 2 Number 1, June 2023.

Please send your full paper (.*doc) via the Registration/ Login form before 31 May 2023.

WA: 0852-4719-5488
Email: dmurdianto@borneo.ac.id

Posted: 2022-12-30
Vol 1, No 1 (2022)
Journal BEARINGS Vol.1 No.1, December 2022
Table of Contents
Articles
| | | |
| --- | --- | --- |
| | Muhammad Fajar Aryansyah, Hadi Santoso, Muh. Firdan Nurdin | |
| | | |
| --- | --- | --- |
| | Henoch Cho Fui Ming, Hadi Santoso, Muh. Firdan Nurdin | |
| | | |
| --- | --- | --- |
| | Muhammad Rizaldi T., Shinta Tri Kismanti, Muh. Firdan Nurdin | |
| | | |
| --- | --- | --- |
| | Remanda Arya Wisutama, Syifa Nurseptiani, Athirah Nur Azizah, Lambang Subagiyo, Atin Nuryadin | |
| | | |
| --- | --- | --- |
| | Nasir Nasir, Hadi Santoso, Marhadi Budi Waluyo | |