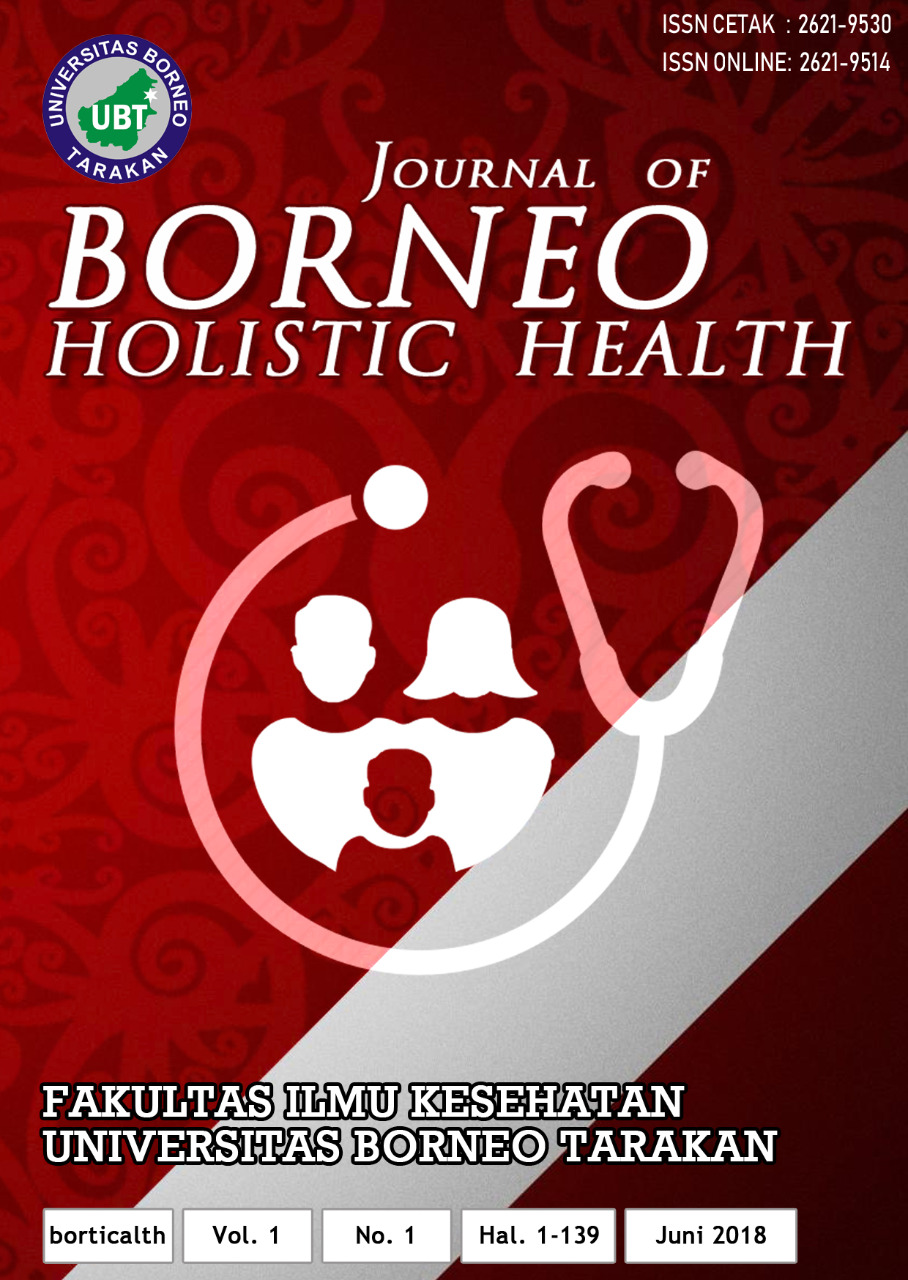 PENGETAHUAN TENTANG DIET DIABETES MELITUS BERPENGARUH TERHADAP KEPATUHAN KLIEN MENJALANI DIET
Abstract
Data dari RSU DR. Wahidin Sudirohusodo selama setahun, pasien yang menderita Diabetes Melitus sebanyak 709 orang, yang terdiri dari laki-laki 346 orang, perempuan 363 orang, dan dari data klasifikasi DM, yang luka dibetik sebanyak 71 orang, yang terjadi karena salah satu penyebabnya ketidakpatuhan menjalankan dietnya, banyaknya kasus komplikasi pada DM, sehingga peneliti tertarik melakukan penelitian tentang hubungan tingkat pengetahuan tentang diet DM dengan kepatuhan klien menjalani diet. Tujuan dari penelitian ini adalah mendapatkan gambaran hubungan tingkat pengetahuan tentang diet DM dengan kepatuhan klien menjalani diet di ruang poliklinik Endokrin RSUP DR. Wahidin Sudirohusodo.Dalam penelitian ini peneliti menggunakan desain penelitian analitik dengan menggunakan metode cross sectional, Populasi adalah semua pasien DM yang datang berobat ke Poliklinik Endokrin. Sampel penelitian menggunakan tehnik Purposive Sampling, Instrumen (alat pengumpul data) yang digunakan adalah kuisioner, analisa yang digunakan pada penelitian ini menggunakan analisis univariat dan bivariat dengan menggunakan uji kai-kuadrat. Hasil dari uhi X2 dengan menggunakan SPSS diperoleh hasil nilai X2 lebih besar dari nilai X2 tabel 0,05, sehingga ada hubungan tingkat pengetahuan tentang diet DM dengan kepatuhan klien menjalani diet, dan nilai P lebih kecil dari intervalnya makin bermakna suatu penelitian. Dan dari nilai odds ratio (7,250) 7,250 kali lebih besar untuk patuh menjalani diet. Kesimpulan: menggambarkan bahwa responden yang berpengetahuan cukup sama besar dengan yang berpengetahuan kurang dan kepatuhan terhadap diet lebih besar dibandingkan dengan yang tidak patuh serta ada hubungan antara tingkat pengetahuan tentang diet Diabetes Melitus dengan kepatuhan klien menjalani diet di Ruang Poliklinik Endokrin RSUP Dr. Wahidin Sudirohusodo Makassar.
Kata kunci: Tingkat pengetahuan, Diabetes mellitus, Diet.
References
Aditama, Tjandra. (2009). Prevalensi di Indonesia. Makalah disampaikan dalam seminar memperingati hari diabetes sedunia. Jakarta.
Brunner and Suddarth. (2002). Buku Ajar Keperawatan Medikal Bedah, edisi 8 volume 2. Jakarta: EGC
Boule N.G., Haddad E., Kenny G.P., Wells G.A.,Sigal R.J (2001) Effect of exercise on Glycemic control and Body mass in type 2 Diabetes Mellitus. A meta-analysis of controlled clinical trials. Ameican medical Association. Vol 286. 1218 -1227.
Brod, M., Kongso, J.H., Lessard, S., Christensen, T.L. (2008). Psychological Insulin Resistence: Patient Beliefs and Implications for Diabetes Management. Quality Life Research, 18, 23-32.
Capes, S., Bourgh, S. (2008). Preventing Coronary Artery Disease in People with Diabetes. Canadian Diabetes Association, 21(4), 27-35
Carpenter, Roger D. (2008). Cognitive Appraisal of Perceived Threat of Diabetes and Adherence to Self Manajement Behaviour. Google.Books. Page 72-75
Castaneda C., Layne J.E., Munoz L., Gordon P.L., Walsmith J., et al.(2002). A randomized controlled trial of resistance Exercise Training to Improve Glycemic control in Older Adults With type 2 Diabetes. Diabetes care.Vol.25.2335-2341.
Everett, Joan. (2007). Insulin initiation in type 2 diabetes: experience and insights. Journal of Diabetes Nursing,11(8), 311–318
Fan L.F.,Sidani,S. (2009). Effectiveness of Diabetes Self Management Education Intervention Elements: A Meta Analysis. Canadian Journal of Diabetes. 33(1), 18-26
Funnel,Martha. (2006). The Diabetes Attitudes, Wishes and Needs (DAWN) Study. Clinical Diabetes, 24(4), 154-155
Funnel,Martha. (2007). Overcoming Barriers to The Initiation of Insulin Therapy. Clinical Diabetes, 25(1), 36-38
Garcia,PinoJ.M., Garcia,RioF.,Diez, J.J., Mendieta, G., Racionero, M., Lobato, S.D., Villamor, J. (1998). Regulation of Breathing in Hyperthyroidism : Relationship to Hormonal and Metabolic Changes. Europe Respiratpry Journal ;12;400-407
Gaglia,J.L.,Wyckoff,J., Abrahamson,M.J.(2004). Acute Hyperglicemic Crisis in Elderly. Med.Cli.Nam Journal. 1063-1084
Haque, M., Navsa, M., Emerson, S.H, Dennison, C.R, Levitt, N.S. (2005). Barriers to initiating insulin therapy in patients with type 2 diabetes mellitus in public sector primary health care center in Cape town. Journal of Endocrinology Metabolism and Diabetes of South Africa, 95 (10),798-802
Hermanns, N, Mahr, M., Kulzer ,B., Skovlund, S.E, Haak,T. (2010). Barriers Toward Insulin Tharapy in Type 2 Diabetic Patients: Result of an Observational Longitudinal Study. Health and Quality of Life Outcomes, 8(113), 1-6.
Kirtland, K.A, Li, Y.F, Geiss, L.S, Thompson, T.J. State Specific Incident of Diabetes Among Adult, Participating States, 1995-1997 dan 2005 – 2007. http://apps.nccd.cdc.gov/ddt_strs2/nationaldiabetesprevalenceestimates.aspx. Diunduh pada tanggal 13 Agustus 2012
Lindley,Benzel J.A. (2005). Self Care : A Clarification of Meaning and Examination of Supportive Strategies. Diabetes care, 23(7),1646-1659
Lau, A.N., Tang, T., Halapy, H., Thorpe, K., Yu, C.H. (2012). Initiating Insulin in Patients with Type 2 Diabetes. Canadian Medical Association Journal,184(7),767-775.
Levich,Bridget. (2011). Diabetes management; optimizing roles for nurses in insulin initiation. Journal of Multidisiplinary Healthcare,4,15-24.
McCarter R, Hempe &Chalew (2005). Mean blood glucose an biological variation have greater influence on HbA1C levels than glucose instability an analysis off date from the diabetes control and complications trial.
McCloskey, J.C., Bulechek, G.M. (2006). Nursing Intervention Classification (NIC) 2nd ed. St Louis: Mosby Years Book
Mahrova A., Svagrova K.(2013). Exercise Therapy – Additional tool for managing Physical and Psychological problems on hemodialysis.INTECH.chapter 36.753-821.
Nelson A.G., Kokkonen J., Arnall D.A.(2011). Twenty minutes of passive Strecting lowers glucose levels in an at risk population; an experimental study. Journal of physiotherapy. Vol.57.173-177.
Peyrot, M. Rubin, R.R, Lauritzen, T., Snoeks, F.J, Matthews, D.R, Skovlund, S.E. (2004). Psychosocial Problems and Barriers to Improved Diabetes Management : Result of The Cross-National Diabetes Attitudes, Wishes and Needs (DAWN) Study. Diabetes Medicine Insulin Therapy, 22(10), 1379-1452
Perkeni. (2011). Konsensus Pengelolaan dan Pencegahan Diabetes Mellitus Tipe 2 di Indonesia 2011. Jakarta
Pranoto,Agung. (2012). Insulin Daily Practice. Disampaikan dalam diabetes workshop VII. Surabaya
Philips,Atone.(2007). Experiences of Patients with Type 2 Diabetes Starting Insulin Therapy. Nursing Standard, 21(3), 35-39.
Phillips, Atone. (2007). Starting patients on insulin therapy: Diabetes nurse specialist views. Nursing Standard, 21(30), 35-40.
Polonsky,W.H., Fisher,L., Guzman,S., Caballero,L.V., Edelman. (2005). Psychological Insulin Resintance in Patients With Type 2 Diabetes. Diabates Care, 28(10), 2543-2548
Rubin, R.R., Peyrot, M., Kruger, D.F., Travis, L.B. (2009). Barriers to Insulin Injection Therapy : Patient and Health Care Provider Perspectives. The Diabetes Educator, 35(6), 1014-1036
Rufener,S.,Arunachalam, V., Ajluna, R., Sil, A. (2005). Thyroid Storm Precipitated by Infection : An Atypical Case Involving Multisystem Organ Dysfunction. Endocrinologist. 5, 111-114
Sarkar, P.D., Skaria, L.K., Agnihotram, G. (2013). Assesment of Nutritional Status in Hyperthyroidism Patients. NJIRM. 4(3).
Sanderson, Colina. (2009). Insulin Initiation : A Primary Care Perspective. Journal of Diabetes Nursing. 11 (9), 344-348
Shakibasadeh, E.,Larijani,B., Shojaeczadah,D., Rashidian,A., Forouzanter, M.H., Bartholomew,L.K. (2011). Patient's Perpectives on Factors that Influence Diabetes Self Care. Iranian Journal Public Health. 40(4), 146-158
Sigal R.J., Kenny G.P., Wasserman D.H., Castaneda C. (2004). Physical Activity/exercise and Type 2 Diabetes. Journal diabetes care vol 27.2581 -2539
Smeltzer,S.C.,Bare,B.G. (2010). Brunner & Suddarth's Textbook of Medical Surgical Nursing. Philadelpia : Lippincott
Soohyun, N. (2009). Factors Associated with Insulin Reluctane in Individuals with Type 2 Diabetes. Diabetes care, 33(8),1747-1749
Soeatmadji, D.W. (2009). The 2 nd Thyroidology Update 2009. Indonesian Society of Endocrinology; Indonesian Study Group of Thyroidology; Indonesian Society of Endocrinology Semarang Branch. Semarang: Balai Penerbit Universitas Diponegoro
Shaw, J.E., Sicree, R.A., Zimmet, P.Z. (2010). Global estimates of the prevalence of diabetes for 2010 and 2030. Diabetes Research and Clinical Practice, 87 (1), 4-14
Tan, A.M., Muthusamy, L., Phoon, K.Y., Ow, J.H, Tan, N.C. (2011). Initiation of Insulin for Type 2 Diabetes Mellitus Patients; What are the Issues? A Qualitative Study. Singapore Medicine Journal, 52(11), 801-810
Then Z.C., Das S., Henry L.J. (2013). Role of Exercise in the management of Diabetes mellitus: the global Scenario. Volume 8
Waspadji, S. 2009. Komplikasi Kronik DM: Mekanisme Terjadinya, Diagnosis dan Strategi Pengelolaan. Dalam: Buku Ajar Ilmu Penyakit Dalam, Jilid III. Balai Penerbit FKUI. Jakarta. Hlm. 1922-1929
Zhaolan, L., Ewen, L.N., Kim, C., Ettner, S.L., Herman, W.H., Karter, A.J.,Brown, A.F. (2010). Prevalence of Cronic Complications of Type 2 Diabetes Mellitus Outpatients- A Cross Sectional Hospital Based Survey in Urban China. Health and Quality of Life Outcomes, 8(1),62-67.
DOI:
https://doi.org/10.35334/borticalth.v1i1.415
Refbacks
There are currently no refbacks.
JOURNAL OF BORNEO HOLISTIC HEALTH
FAKULTAS ILMU KESEHATAN UNIVERSITAS BORNEO TARAKAN
JL. AMAL LAMA, NOMOR 1, KELURAHAN PANTAI AMAL, KOTA TARAKAN 77123
Phone : 085246694869
Email : borticalth@gmail.com
Laman : jurnal.borneo.ac.id/index.php/borticalth

JOURNAL OF BORNEO HOLISTIC HEALTH disebarluaskan di bawah Lisensi Creative Commons Atribusi 4.0 Internasional.