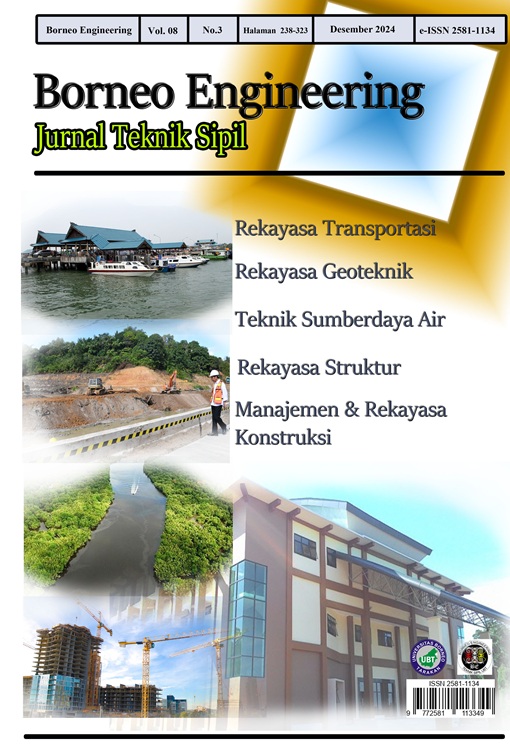 Borneo Engineering : Jurnal Teknik Sipil
Borneo Engineering: Jurnal Teknik Sipil (ISSN Online 2581-1134) and (ISSN Print 2685-7553) published twice in a year, in June and December. The article can be a product of researches, scientific thoughts, or case study with scope Construction Management, Structural, Transportation, Water Resources, and Geotechnical Engineering. The author may write an article by the template and submit the article online by using the OJS system. Any matters relating to the use of the software, citation and copyright permissions made by the author of the article, and the legal consequences it causes, are the sole responsibility of the author of the article.
Borneo Engineering: Jurnal Teknik Sipil have been indexed in Sinta, CrossRef, Google Scholar, Garuda, PKP Indeks, and Neliti. 
Borneo Engineering: Jurnal Teknik Sipil is a peer-reviewed open access journal published three times a year (April, August, and December)
Vol.5 No.1 April 2021, submission deadline: 1 March 2021
Vol.5 No.2 August 2021, submission deadline: 1 July 2021
Vol.5 No.3 December 2021, submission deadline: 1 November 2021
View Journal | Current Issue | Register
Elektrika Borneo
Elektrika Borneo (JEB) (p-ISSN 2443-0986 dan e-ISSN 2685-001X) merupakan jurnal saintek yang diterbitkan secara berkala sebanyak dua kali dalam setahun yaitu April dan Oktober oleh Jurusan Teknik Elektro, Fakultas Teknik, Universitas Borneo Tarakan. Fokus dan ruang lingkup jurnal ini adalah penelitian dan kajian tentang isu-isu mutakhir berkaitan dengan bidang ELEKTRIKA (Elektronika, Telekomunikasi, Listrik, dan Informatika), khususnya untuk perkembangan kawasan perbatasan dan sumber daya laut tropis. Naskah yang masuk merupakan artikel up-to-date dan belum pernah dipublikasikan di jurnal ilmiah lainnya yang kemudian akan diseleksi melalui proses peer reviewers oleh mitrabestari (reviewer). Segala hal yang berkaitan dengan penggunaan perangkat lunak, kutipan dan hak cipta yang dibuat oleh penulis artikel, dan konsekuensi hukum yang ditimbulkannya, adalah tanggungjawab penulis artikel tersebut.
Elektrika Borneo telah diindeksasi pada: